Media Contact Telephone (office hours): 07480 284 504
Media Contact Telephone (out of hours): 07480 284 504
Media Contact email: contact@autoinflammatory.uk
Logo Downloads (all formats .zip)
Evidence Site (email for password)
Press Coverage:
Rare Stakes (Medicine Balls)
Private Eye No. 1507, 18-31st October 2019, p. 17.
Not available online.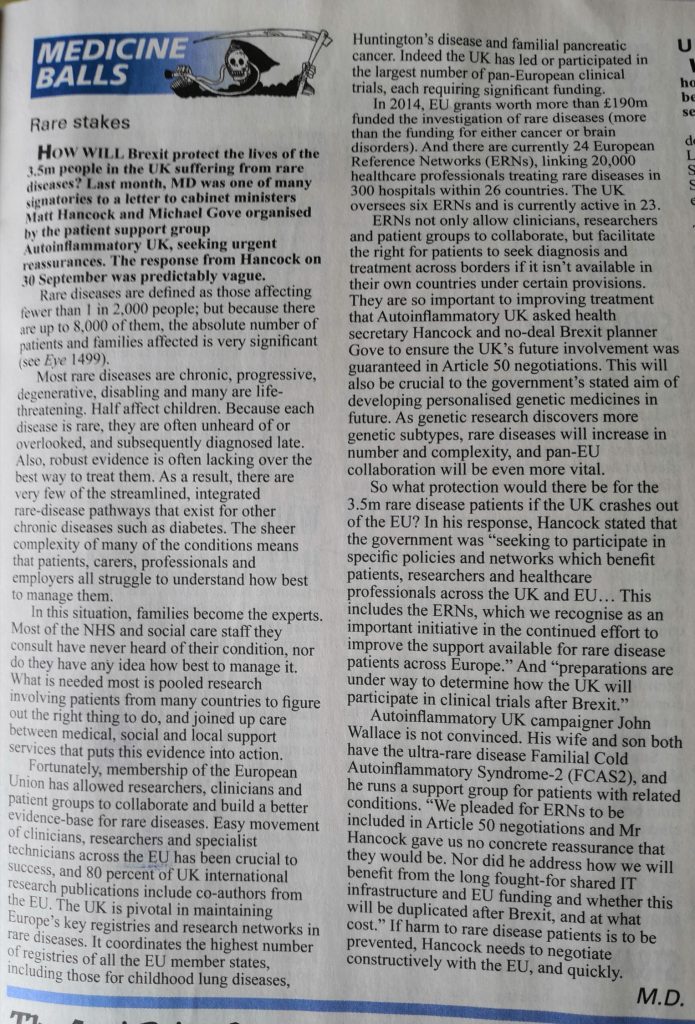 Brexit could harm rare disease research and collaboration
MAP BioPharma 2nd October 2019
https://mapbiopharma.com/2019/10/brexit-could-harm-rare-disease-research-and-collaboration/
Rare disease patients unconvinced by health secretary's post-Brexit research plans
pharmaphorum, 2nd October 2019
https://pharmaphorum.com/news/rare-disease-patients-unconvinced-by-health-secretarys-post-brexit-rd-plans
Local Woman challenges UK ministers
Mourne Observer, Pages 1 & 10, 25th September 2019
https://mourneobserver.com/local-woman-challenges-uk-ministers/ (Paywall)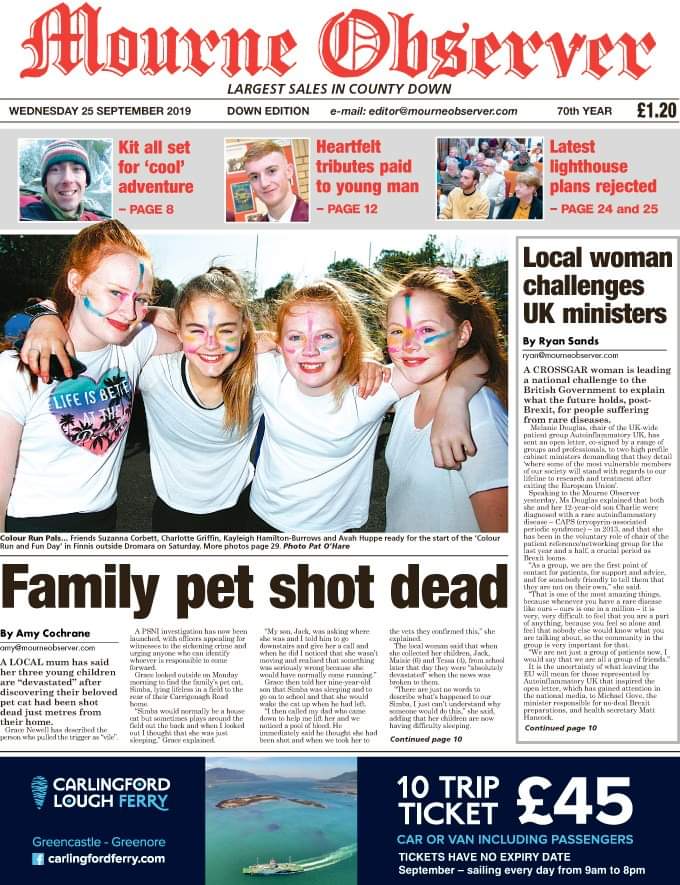 Bexit could freeze UK out of EU rare disease research, says patient group
pharmaphorum, 23rd September 2019
https://pharmaphorum.com/news/brexit-could-freeze-uk-out-of-eu-rare-disease-research-says-patient-group/
Alarm over post-Brexit fate of 3.5 million of us with a rare disease
Scotland on Sunday, Pages 2/3. 22 September 2019.

Press Releases:
20th September 2019
Autoinflammatory UK publishes open letter to Rt. Hon. Michael Gove and Rt. Hon Matt Hancock pleading for access to European reference Networks (ERNs) to be included in Article 50 Negotiations.
https://www.autoinflammatory.uk/open-letter-to-michael-goveand-matt-hancock/
Ad Hoc Press Statements:
Autoinflammatory UK's statement on Matt Hancock's reply to our open letter:
3rd October 2019
Unfortunately the Secretary of State failed spectacularly to answer any of the questions we posed. We asked him to inform us of what the immediate future holds for us, he never replied. We pleaded for ERNs to be included in Article 50 negotiations and Mr Hancock never gave us any reassurance that they would in fact be included. His reply completely ignored our pleas. Also not addressed was how we will benefit from the long fought for shared IT infrastructure and EU funding and whether this will be duplicated after Brexit and at what cost.
His reply really didn't demonstrate a firm grasp on health, biomedicine and clinical regulation. ERNs were built around the cross border EU health directives, its hard to see how that will work after Brexit and Mr Hancock has certainly not demonstrated how it would.
We, as the oldest and largest UK patient group representing some of the most chronically sick people in our country suffering from rare autoinflammatory conditions, expected more details from the Secretary of State responsible for our care. The UK rare disease population is 2.5 million and Mr Hancock was given the opportunity to speak to us directly and put our minds at ease. We feel he hasn't taken the opportunity seriously enough.
Last Updated on