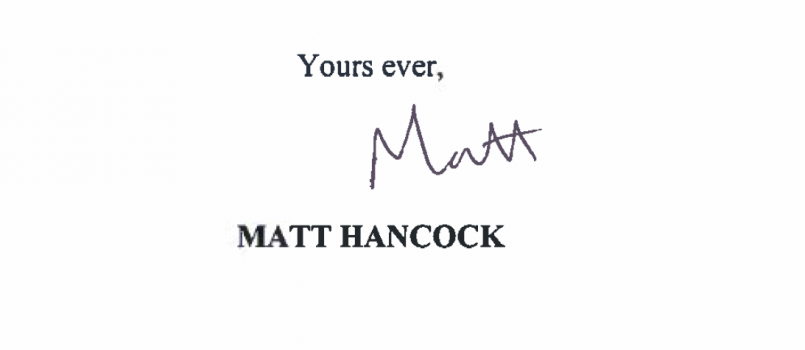 The UK's Secretary of State for Health and Social Care has taken note of our open letter published on our website on 20th September 2019 asking for continued access to European Reference Networks (ERNs) and to be included in Article 50 negotiations. Today we received a reply from Matt Hancock after he made his speech to the Conservative Party conference in Manchester.
The following is the text of his letter:
Thank you for your open letter of 20 September on behalf of Autoinflammatory UK. The government recognises the crucial role that families play in supporting patients and spreading knowledge of conditions. The quality and safety of patient care is paramount in our preparedness plans and we want patients to be able to acces the best care and support available.
The UK and the EU have a long track record of jointly tackling global challenges with strong existing links already in place between our research and innovation communities. We recognise the benefits of this collaboration and want to see it continue in areas of shared interest through a partnership with the EU covering research, science and innovation.
Furthermore, we are seeking to participate in specific policies and networks which benefit patients, researchers and healthcare professionals across the UK and the EU. This includes the European Reference Networks, which we recognise as an important initiative in the continued effort to improve the support available for rare disease patients across Europe.
I am proud that the UK is a world leader in science, research and innovation, including in the field of rare diseases. For example, the Life Sciences Sector Deal will help ensure new pioneering treatments and medical technologies are produced in the UK, improving patient lives and driving economic growth. Genomics, which is a cornerstone to this, will revolutionise healthcare as was pioneered by the successful 100,000 Genomes Project with its ground-breaking impact on UK rare diseases patients and those with cancer.
In any EU Exit outcome, patients will have the same access to UK expertise and centres of excellence as they do now. Additionally, the ability of the UK to participate in multinational trials, in the EU or the rest of the world, will not change and data generated in a UK trial will continue to be admissible for regulatory purposes in the EU and across the world.
Our vision for the UK's future relationship with the EU for medicines and clinical trials is underpinned by international collaboration. As we approach EU Exit, we want to continue supporting co-operation and knowledge sharing across the whole of Europe to improve patient outcomes and research. We are currently exploring the possibility of cooperation between the MHRA and the European Medicines Agency (EMA) post-Brexit and have been engaging with stakeholders including charities, in preparations for the determining how the will (sic) regulate UK clinical trials.
We hugely value the contribution of EU medical researchers in the UK. IN recognition of this, on 8th August 2019, the Prime Minister announced a new fast track immigration route aimed at enabling a wider pool of scientific talent to come to the UK. This route will ensure that those with specialist skills in STEM subjects can come to the UK and make an important contribution to our leading science and research sectors, significantly enhancing the intellectual and knowledge base of the UK.
We want to ensure that the UK can continue to take part in world-leading research collaborations after the UK leaves the EU and we will remain committed to creating mutually beneficial opportunities for collaboration with European and international partners.
Yours ever,
Matt
Obviously, this letter doesn't answer our questions at all.
Group's statement on Matt Hancock's reply to our open letter:
3rd October 2019
Unfortunately the Secretary of State failed spectacularly to answer any of the questions we posed. We asked him to inform us of what the immediate future holds for us, he never replied. We pleaded for ERNs to be included in Article 50 negotiations and Mr Hancock never gave us any reassurance that they would in fact be included. His reply completely ignored our pleas. Also not addressed was how we will benefit from the long fought for shared IT infrastructure and EU funding and whether this will be duplicated after Brexit and at what cost.
His reply really didn't demonstrate a firm grasp on health, biomedicine and clinical regulation. ERNs were built around the cross border EU health directives, its hard to see how that will work after Brexit and Mr Hancock has certainly not demonstrated how it would.
We, as the oldest and largest UK patient group representing some of the most chronically sick people in our country suffering from rare autoinflammatory conditions, expected more details from the Secretary of State responsible for our care. The UK rare disease population is 2.5 million and Mr Hancock was given the opportunity to speak to us directly and put our minds at ease. We feel he hasn't taken the opportunity seriously enough.